1.Computerized High Speed Multi Needle Shuttle Quilting Machine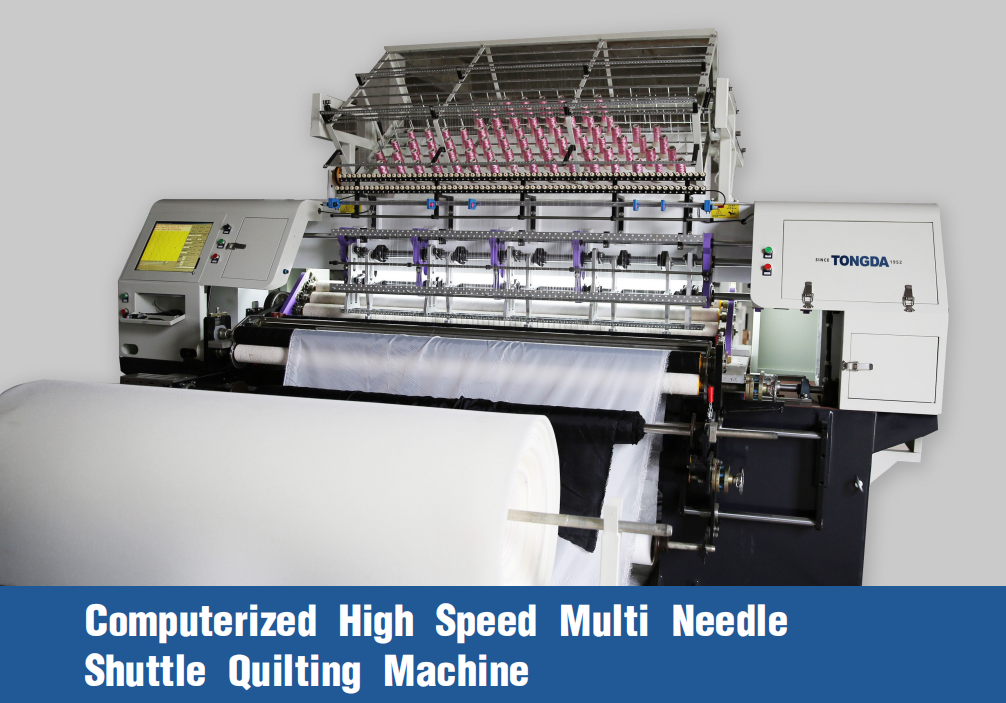 Extreme precision with 360 intricated patterns including bartack and jump patterns with automatic top thread cut.

High performance aircraft aluminium alloy-bushless needle-drive parallelogram system assuring a smooth and frictionless high speed round the clock working without any maintenance.

Unique adjustable(0~50~80mm) active roll feeding system can adjust ideally materials of different thickness and allow perfect sewing without skipped stitches on very thick materials.

Independent positive presser foot system,with wide possibilities of adjusting stroke and passage clearance, Capable of compressing thin or very thick filling materials(up to 80mm).

Independent positive presser foot system,with wide possibilities of adjusting stroke and passage clearance, Capable of compressing thin or very thick filling materials(up to 80mm).

Top fabric tray feeding device with adjustable brake, gives a constant and accurate top fabric tension control to any kind of fabric, independent of the rolls diameter.

The photoelectric thread break detector has the features of high sensitivity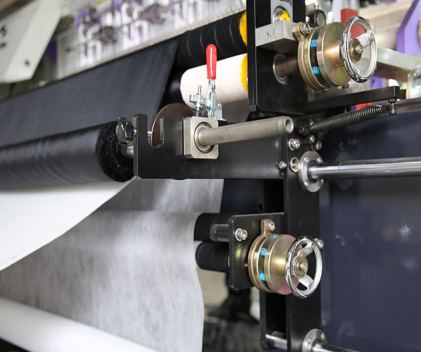 2.Computerized Multi Needle Chain Stitch Shuttleless Quilting Machine
Bottom/upper thread breakage detection function.

Infrared sensor detect thread breakage, then automatically stop, lift the needles and NC control Speed.

Cut and loose thread automatically with air cylinder when quilting tack and jump patterns.

Rollers and screw mandrel are used with Japan Panasonic Servo Motors, make sure precise quilting.

Strengthened double rocket system, rigid and durable, makes sure machine running more quietly at high speed.

Pattern combination function to create more new design easily.

Completely computer control with real-time monitoring.
3.Computerized Single Needle Quilting Machine (Industrial sewing machine head)
This machine reaches the internations advanced level.

The advance control software is applied and all technical performance has been highly improved.

The Maximum speed is up to 2200 RPM(the fast and most efficient in like product).

The machine has the function of thread breaks detecting with high sensitivity.

Simulate display of the design quilted.

Display of the working speed ,reasons for stop stitch,coordinate and design file directly, Etc.

A lot of designs can be read from u disk and stored in memory for a long term, which will be selected by operator.

During the course of quilting, once it occurs power cut or shut off, designs or parameters that have been already set will still be saved in the computer for resuming the original designs while it selectrifiled.

After reinforce quilting parameters are set, return stitch will be realized automatic quilting in a specifiled position.● when there is a corner during the course of quilting , the quilter wil reduce the speed automatically.

Machine head and frames are allowed to move at low or high speed.

The machine greatly simplifies the transmission structure ,plongs the service life and reduces the maintenance cost.
( Read More : Ring Spinning : Definition, Process , Main Operations )
( Read More : How does rotor spinning work? Principle. Operation. Application)